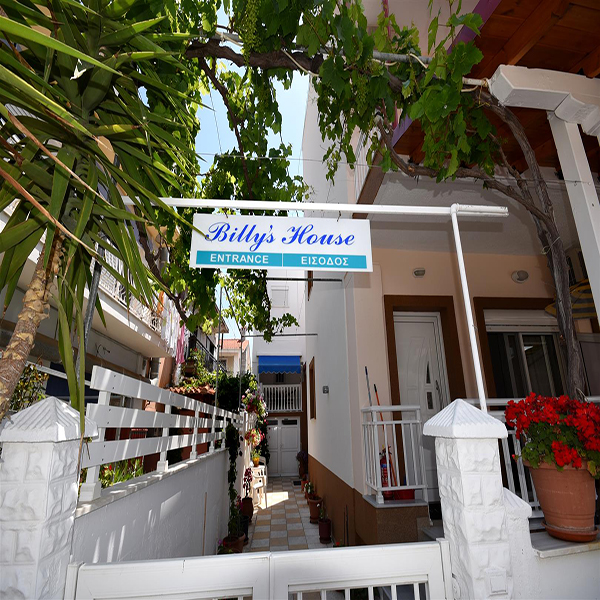 WELCOME!
A blessed place. Like a painting on canvas that God created on this beautiful side of Greece.
Crystal waters with tints of green, magnificent beaches that have nothing less than exotic places,
sunsets full of impressions are some of exchange between pictures and colors that you will see
in Sarti and its surroundings.
There you will find Billy's House, an beautiful accommodation unit near the local beach and Sarti center.
In our recently renovated rent rooms-studios, you will have a comfortable and pleasant stay during your vacations.
Everything was perfect! The apartment/studio was spacious enough for the three of us, super clean and comfortable. The terrace with the sea view was magnificent! The host is an amazing person. He was really friendly and responsive, probably one of the bests hosts we have met during our trips. We had a fantastic stay. Thank you and see you next time we come to Sarti!
Elena from Bulgaria
Отель приятный, брали апартаменты удобная кухня, хороший хозяин все расскажет, номер просторный, при возникновении проблем, быстро устраняет. Есть москитная сетка на балконной двери и рольставни, очень удобно, если шумно. Море пляж рядом.
Anna from Russia
Az apartman nagyon jól felszerelt, tiszta, tágas, kényelmes volt. A szoba hamar bemelegedett. Az ágy kényelmes. A szállás könnyen megközelíthető, a központban fekszik, ezért minden közel volt. A tengerparthoz is hamar lejutottunk. A szállásadóink kedves, figyelmes és nagyon segítőkész emberek.
Julianna from Hungary
Sehr nah am Strand, sehr sauber gehalten, nette und hilfsbereite Betreiber.
Yan from Germany
Άνετο και ευρύχωρο δωμάτιο με πολύ ωραία διακόσμηση. Πολύ κοντά σε παραλία και ότι άλλο χρειαστήκαμε. Ευγενέστατοι ιδιοκτήτες πρόθυμοι να εξυπηρετήσουν στα πάντα. Μια πολύ καλή επιλογή στην όμορφη Σάρτη.
Σάκης από Ελλάδα
A few words about Sarti
Sarti is built at the eastern coast of the Peninsula of Sithonia. It was named after an ancient city,
which was built at the same location. We encounter the name "Sarti" in Herodotu, who mentions
the ancient city as a stoppage of Xerxis fleet expedition. Moreover, Sarti was a member of the
Athenian confederation.
The timedate of the causes of its destruction are not known. A village named Sarti is also mentioned
during the 14th Century. After 1922, it was inhabited by Near East refugees.
Nowadays, Sarti constitutes a touristic center, where the visitor can enjoy the beauty of nature,
combining mountain and sea.
BOOKING REQUEST
Use this form to easily make a booking request.
Upon receiving the form, we will soon get back to you.
Thank you in advance!